SUBB at the Allendale:
SUBB are back at the Allendale for a second consecutive year!
Rememb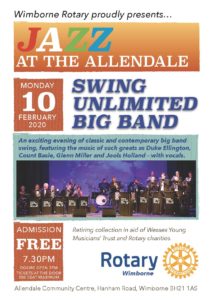 er last year? We do, it was a sell out, there wasn't a spare seat. Remember this is a FREE entry gig, but it is not free to exit.
Member so of Wimborne Rotary will be collecting for Wessex Young Musicians and other charities.
SUBB will be playing their usual Unlimited repertoire, expect some traditional, some new, and maybe even some original!
See the poster for futher details
---