Now the 14th Year of SUBB performances at the Regent Centre in Christchurch, we sold out the Regent Centre (oh yes we did)!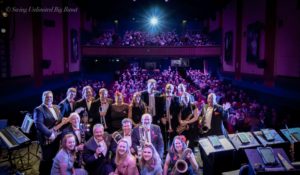 Under the tremendous direction of Pat Peiro, SUBB performed all their usual War Time favourites, including back by popular demand James Stead's superb World War One collection of tunes.
SUBB was delighted to welcome back the Andrews Sisters (Claire, Beth and Holly), who performed classics such as 'Don't Sit Under the Apple Tree', and 'Oh Johnny, Oh Johnny, Oh!'.
The band ended with a rousing performance of We'll Meet Again (as requested by an audience member), and we were delighted to welcome Mr Somerville a veteran of the D-Day landings.
I am sure we will all meet again in the same place and at the same time!
---