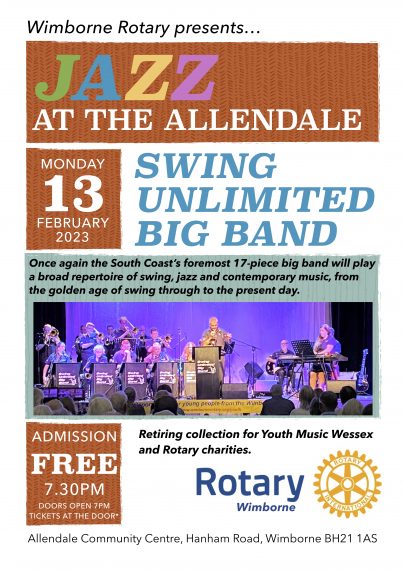 February 13, 2023
Wimborne, UK
Time: 19:30
Venue: Allendale Centre
Address: Hanham Rd, Wimborne Minster, Wimborne
Zipcode: BH21 1AS
State: Dorset
Country: GBR
Phone: 01202887247
WIMBORNE ROTARY PRESENTS JAZZ AT THE ALLENDALE
Wimborne Rotary is pleased to announce the latest in their successful series of 'Jazz at the Allendale' concerts. The next concert will be on Monday 13 February 2023 at 7.30pm.
As previously, the venue will be the Allendale Community Centre, Hanham Road, Wimborne BH21 1AS and entertaining the audience once again will be the South Coast's foremost 17-piece big band, Swing Unlimited Big Band.
The programme will include a broad repertoire of swing, jazz, and contemporary music, from the golden age of swing through to the present day.
Admission is free with tickets available at the doors, which open at 7.00pm. There will be a retiring collection in aid of Youth Music Wessex and Rotary charities which it is hoped will be generously supported.
Organiser of the concert, Rotarian Bob McCarthy, said, "This latest charity jazz concert marks the eleventh anniversary of these concerts. Thanks to the outstanding generosity of our audiences in the past, we have been able to raise over £16,000 for worthy causes".
For further information contact: John Gully, PR Officer, Wimborne Rotary 07876 334949