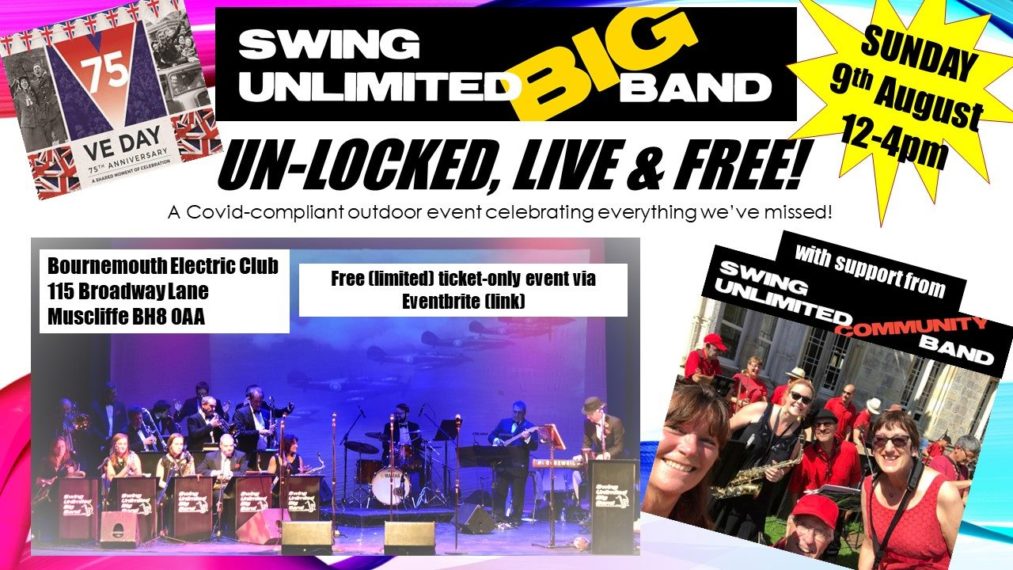 August 9, 2020
Bournemouth, Dorset
Time: 12:00pm
Venue: Bournemouth Electric Sports & Social Club Ltd (Ticketed but FREE Event)
Address: Broadway Lane, Bournemouth
Zipcode: BH8 0AA
On – Sunday 9th August, 1pm to 4pm
Swing Unlimited Big Band (with support from our community band SU2) celebrate the music and events we have all missed during lockdown – from the D-Day and VE commemorations, to going to the Cinema, to going out to see live music!
This is a Covid-compliant event, with the now-familiar one-way distanced queuing systems, sanitising stations and toilets, and lots of room outdoors to keep socially-distanced from non-bubble folk!
Food and Drink available on site throughout the event.
Entry – Free, Ticket-only (for Track & Trace compliance) via Eventbrite, SUBB's and Electric Club's website and social media platforms.
Collections for voluntary donations for the Swing Unlimited Group and associated charities, including the new "Debbie Henderson Young Musician's Scholarship Fund"*
*in association with the Richard Ely Trust for Young Musicians