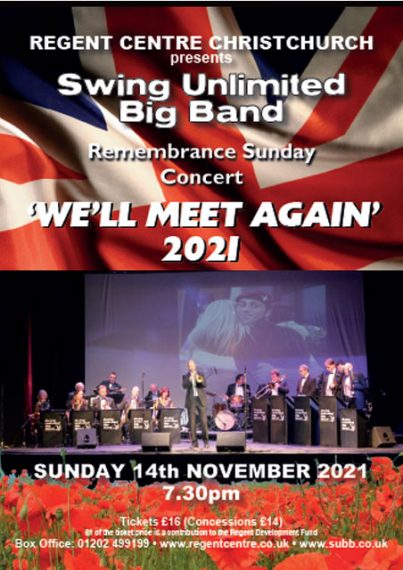 November 14, 2021
Christchurch, Dorset
Time: 7:30pm
Venue: The Regent Centre, Christchurch
Address: 51 High St, Christchurch
Zipcode: BH23 1AS
State: Dorset
Country: GBR
Phone: 01202 499199
We'll Meet Again" commemorates Remembrance with a very special concert at the Regent Centre by the fabulous 17-piece Swing Unlimited Big Band. With war-time classics by Glenn Miller, Count Basie and Duke Ellington, as well as songs by Ella Fitzgerald and Frank Sinatra, the show re-creates the period with images, words and music. An uplifting, fun and moving event.
Swing Unlimited Big Band is widely recognised as one of the most versatile and entertaining swing bands around. Their musicians and singers offer a complete range of music from the 1920s right up to modern pop, funk and rock.
This year's concert commemorates the 77th anniversary of the D-Day Landings in 1944 with a celebration of many of the best known and loved songs, tunes and poems of the war years and beyond.